Greetings,

Bimbi signing in.  Here is the recap of the dj battle that went down last saturday on album 88's Soul Kitchen.  In actuality, you end up w/ a saturday afternoon, strictly for the caddy lover's set from dookie, and a friday nite cruzan set from me.  In fact this might be the perfect mix for driving to the Goofer Dust album release show this friday nite at the earl.
 Dig it.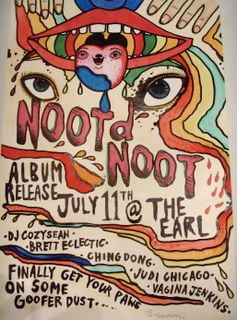 track listing is as follows:
Herbie Hancock-"Revolution
Jackson Sisters- "Miracles"
Earth, Wind, and Fire- "Africano/Power"
Cameo-"Rigor Mortis"
Babe Ruth-"The Mexican"
Miles Davis-"On The Corner (alt. take)"
The 8th Day-"Cheba"
Jon Lucien- "Listen Love"
Noot d' Noot-"Chilè Filès"
David Bowie- "Fame"
George McCrae- "I Get Lifted"
Sentisteben- "Zorongo"
Shuggie Otis- "Ice Cold Daydream"
Zapp- "Funky Bounce"
Tom Browne- "Funkin' For Jamaica"
Parliament- "Rumpofsteelskin"
Junie Morrison- "Tightrope Walker"
Noot d' Noot featuring Sleepy Brown- "Living The Life"
Funkadelic- "Good To Your Earhole"
Erykah Badu-"American Promise"
Special thanks to Adam Bomb for letting us on his radio. And yes, Funky Kong, Fame is a funk record.